Unsure if you need winter bedding? If you're in New Zealand, you won't be. We know you need proper bedding to stay warm and how to bulk up your bedding to keep nice and cosy in the winter months.
So, with a restful winter's night's sleep on our minds, we asked Lisa Marcellus of The Furnishing Room how to best make up your bed for cold weather. Lisa has over 15 years of experience in the interior design industry and is an expert in making sure you have a great night's sleep, whatever the season. Below, she answers all of our queries on how to incorporate winter bedding this season.
What can I do to refresh my bedding for the winter?
The quickest way to refresh your bedding for a new season is to change the sheets. Your bed is the focal point of your bedroom so an easy way to reinvigorate the space is to try a new style. In summer, you might focus on floral patterns, pastels or neutral tones, but in winter, you might want to try richer colours, cosier, warmer-sleeping sheets (like a sateen, twill weave or flannel), with a toasty wool throw on top.
Also, accent cushions added to your bed will give it a unique character and design element. Using warmer textures, and rich colours draws the eye into the centre of the room.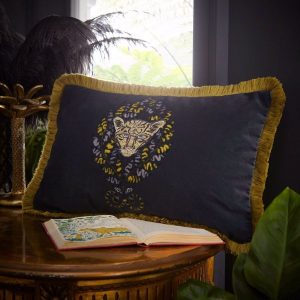 Will I be warm enough sleeping in linen fabrics in winter?
This is a great question, and the answer is surprising to many. Linen has natural cooling properties, which makes it excellent for summer months, but it also is a natural temperature regulator and insulator, which means that it also has the ability to keep you warm in winter. It is breathable and moisture-wicking, and it's perfect if you accidentally add too many layers of blankets or if you and your partner run hotter or colder than the other as it will naturally adjust to you both.
What are the best materials to use to create cosy bedding set for the winter months? What are your favourites to use for pillows, duvets and blankets? 
My top recommendation for pillows and duvets if you want something light and fluffy but without feeling too heavy is Down. Compared to synthetic filling, it is also more breathable, allowing it to be used throughout seasons well.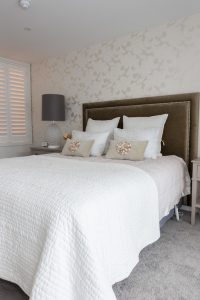 If I've got bedding that I already love, how can I update my current bedding without buying a whole new set? 
Having bedding that you already love and want to build on is great. Not all design updates mean that you need all new things, and it's great be able to do little tweaks and transform a client's bedroom.
Purchasing a new duvet cover and pillowcases or even just adding in new cushions and a matching throw that complements the theme will make a major difference to your room.
If you want to add energy and vibrancy to a room, look to introduce colour through a heavier, textured blanket or quilt. On the other hand, having a block colour can introduce calm and tranquillity to the space. Adding more texture to your bed through different fabrics like linen or silk will add a visual depth and make getting into bed a more sensory experience. Don't underestimate the power of small changes on the overall design.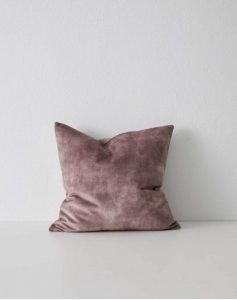 What are your suggestions for how to get to sleep when it is too cold?
I would absolutely have a warm shower before bed and if you have one, turn on your electric blanket just before you pop into the shower to give it time to warm up. You won't want it on all night - definitely turn it off when you get into bed, but the warmth will ease the transition. If you're looking for a more sustainable alternative, use heated wheat bags and pop them between the sheets or on your feet when you get in. If you're in bed and aren't sure if its warm enough, make sure you've got extra layers to pop on - remember, if you get too warm you can always take them off.